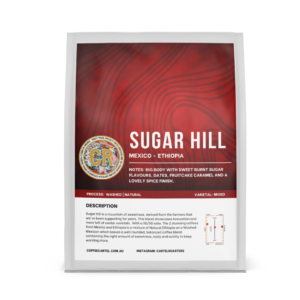 SUGAR HILL BLEND – MEXICO / ETHIOPIA – 50/50
NOTES: BIG BODY WITH SWEET BURNT SUGAR FLAVOURS, DATES, FRUITCAKE CARAMEL AND A LOVELY SPICE FINISH.
Sugar hill is a mountain of sweetness. derived from the farmers that we've been supporting for years. This blend showcases innovation and more left of center varietals . With a 50/50 ratio. The 2 stunning coffees from Mexico and Ethiopia is a mixture of Natural Ethiopia an a Washed Mexican which leaves a well rounded, balanced coffee blend containing the right amount of sweetness, body and acidity to keep wanting more.
SUGAR HILL BLEND – COLOMBIA – NICARAGUA – ETHIOPIA
Great taste.
Fresh beans with smooth but strong enough taste. Definitely going to order again. Thanks
Why is the price different online and where's the roast date?
No roast date on bags.
Inconsistent pricing (purchased single origin at the store – much cheaper online).
Stop with the damn review emails
I buy coffee from you and don't expect to be bombarded with review requests when I never opted in to a marketing email list. I will unsubscribe by I shouldn't have to. It is a dark pattern of marketing that may have been accepted about 10 years ago but marketing strategy has moved on.
Amazing 🤩
A fabulous, well balanced blend with a lovely combination of flavours on the palate, perfect with a dash of milk or just as it is.
This coffee is paired well with