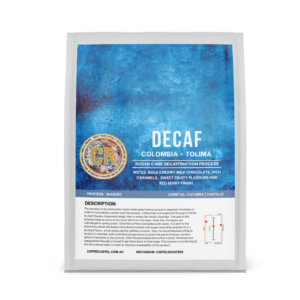 DECAF – COLOMBIA – TOLIMA – SUGAR CANE DECAFFINATION PROCESS – WASHED
NOTES: BOLD CREAMY MILK CHOCOLATE, RICH CARAMELS, SWEET FRUITY FLAVOURS AND RED BERRY FINISH.
The process of decaffeination starts when green beans are put in separate chambers in order to have better control over the process. Coffee then is transported through a funnel to start the pre-treatment stage, then it enters the steam chamber. This part of the process helps to remove the silver skin from the bean. After this, the beans are submerged in spring water. Once the coffee is saturated with water, it is sent to the extractors where the beans have direct contact with sugar cane ethyl acetate (E.A.) during 8 hours, which dissolves the caffeine content. Then the decaffeinated coffee is dried in a chamber with controlled temperature to reach the same moisture content which it had prior to the process. After the processed and coffee is dried, the beans are transported through a funnel to get them back to their bags. This process is monitoring by the Descafecol team in order to maintain traceability of the product.
<iframe width="560″ height="315″ src="https://www.youtube.com/embed/4Utv57RkKmE" title="YouTube video player" frameborder="0″ allow="accelerometer; autoplay; clipboard-write; encrypted-media; gyroscope; picture-in-picture" allowfullscreen></iframe>
Excellent decaf
This decaf is excellent – full flavoured so it tastes just like regular coffee. I will definitely purchase again.
So good
One of the best water process decafs in Australia
Delicious decaf
This is really great decaf, one of the best I've had, as are all the coffees from Cartel Roasters…so good. And the service is always exceptional.
Its the best defcaf I've had.
It only gets 4 stars instead of 5 because its decaf. I miss proper caffeine but I just cant have it right now. This is a close second best. Thank you coffee Cartel for allowing me to still enjoy my morning ritual.
No caffeine? You wouldn't know.
I can no long consume caffeine but I still love my espresso and long back. Fantastic decaffeinated beans like these make the lack of variety really quite bearable for the discerning coffee snob.
This coffee is paired well with