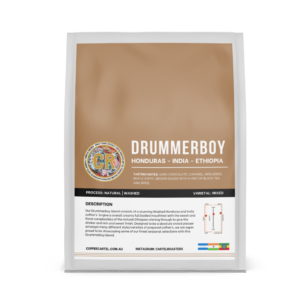 DRUMMER BOY BLEND – HONDURAS / INDIA / ETHIOPIA – 2021
NOTES: CHOCOLATE, CARAMEL MOLASSES , MAPLE SYRUP, BROWN SUGAR, COCOA,  BLACK TEA & SPICE
Our Drummer Boy blend consists of fully washed and natural coffees. It's designed to be a crowd pleasing blend by offering the best seasonal coffees that give clean flavours with great acidity. You should be able to drink this black, with minimal to no bitterness with a long finish.
This consecutive gold medal blend is a delicious selection of only the highest quality fully washed coffees from our portfolio. We have selected some very nice easy drinking single origins with good body and sweetness for this season blend ! All coffees have been chosen from our blind cupping table each season.
Our Roaster meticulously blind cup's all of our micro lots together then individually roasts the coffees to bring out the unique flavours from each coffee origin. This blend is a mix of coffees that gives body and spice paired with the beautiful washed Ethiopian Guji that just jumps out of the cup with citrus caramel & chocolate notes, the body from the Colombian balances the acid for a full  rounded cup. Our aim is each year is to make the blend balanced and easy to drink
Love this coffee, will buy again!
Great coffee! Great service!!!
DRUMMER BOY BLEND – HONDURAS / INDIA / ETHIOPIA – 2020
A week for delivery!
The coffee beans are great, but a week for delivery within 100km is ridiculous.
Vague pricing
When querying why in store price is 20% higher than online price I was told that the in store price factors in the shipping charges. Interesting explanation as an online transaction offers a "click and collect" option.
Was not going to review at all but I keep getting pestered to, so I might as well vent.
This coffee is paired well with