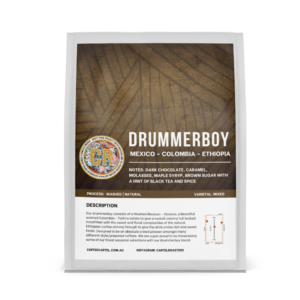 DRUMMER BOY BLEND – MEXICO / COLOMBIA / ETHIOPIA
NOTES: DARK CHOCOLATE, CARAMEL, MOLASSES, MAPLE SYRYP, BROWN SUGAR WITH A HINT OF BLACK TEA AND SPICE
Our Drummer Boy blend consists of fully washed and natural coffees. It's designed to be a crowd pleasing blend by offering the best seasonal coffees that give clean flavours with great acidity. You should be able to drink this black, with minimal to no bitterness with a long finish.
Our drummerboy consists of a Washed Mexican – Oaxaca, a Beautiful washed Colombia – Tolima estate to give a overall creamy full bodied mouthfeel with the sweet and floral complexities of the natural Ethiopian coffee shining through to give the drink a nice rich and sweet finish. Designed to be an absolute crowd pleaser amongst many different style/prepared coffees. We are super proud to be showcasing some of our finest seasonal selections with our drummerboy blend.
Great coffee
Great coffee. Have finally found my perfect coffee. Fast delivery and reasonable price.
DRUMMER BOY BLEND – NICARAGUA / INDIA / ETHIOPIA – 2022
Great coffee, prompt delivery.
Love the coffee, great variety, have tried a few and really love DrummerBoy and Muhuba, and very quick delivery. Can recommend.
Taste
3 years ago I tasted Drummer Boy coffee for the first time & have continued since, haven't found another in preference.
This coffee is paired well with