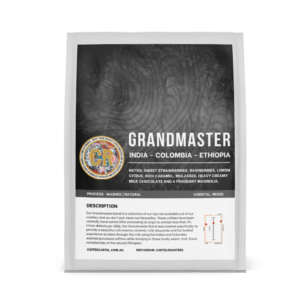 GRAND MASTER | PREMIUM BLEND | INDIA – COLOMBIA – ETHIOPIA GR1 | 2022
NOTES: SWEET STRAWBERRIES, RASPBERRIES, LEMON CITRUS, RICH CARAMEL, MOLASSES, HEAVY CREAMY MILK CHOCOLATE AND A FRAGRANT MAGNOLIA.
India – Riverdale Estate – Washed Process
Colombia – Tolima Estate – Washed Process
Ethiopia – Fulasa Gesha – Natural Process
Our Grandmaster blend is a collective of our top lots available out of our roastery and we don't just mean our favourites. These coffees have been carefully hand sorted after processing at origin to contain less than 3% minor defects per 100g. Our Grandmaster blend was created specifically to provide a beautiful rich creamy caramel, milk chocolate and full bodied experience to shine through the milk using the Indian and Colombia washed processed coffees while bringing in those lovely sweet, fruit, floral complexities of the natural Ethiopian.
Each particular coffee is methodically roasted. Working hard to roast each bean to allow its very best potential to shine from its terroir (earth and soil) to be confidently identified when brewing. Through years of experience we have perfected this wonderful roast approach which is brought about from years of trialing the S curve, with this we have focused on an aggressive roast into first crack and allow natural bean development with low heat through to second crack. Each coffee is carefully monitored so that natural complex sugars are formed with gentle bean development making the acidity shine and create sweetness in the cup. The grand master blend roasted by our head roaster is available through out the year using the finest traceable coffees we have personally sourced through extensive work in Africa and South America and Asia. Please enjoy and brew with care and respect.
Great coffee at Coffee Cartel
Visited on a recent trip to Geelong from Melbourne Delicious coffee on the day , so beans bought to take home.
Then ordered on line. Very easy and quick ordering and delivery and now enjoying their great coffee every day. Couldn't be happier!
Smooth, Creamy, Delicious
Importance for customers to be able to see roast date
Due to not having a roast date the 1kg batch had to be dialled right down to 5 on my crap grinder. So guessing it had been sitting for a while. Fresh coffee is around the 10-11 range on my grinder. Shame as it will take me a while to get through it.
Chocolate base with fruit notes in the background
Grandmaster is a nice drinkable daily expresso coffee. Caramel chocolate base with fruit notes. Very pleasant.
Great taste, but not worth the money
Great tasting coffee.
The problem is, I need 2-4 cups of this to get the same morning coffee buzz I get from a regular cup of coffee.
I'll have this for my drive to work and I'm yawning all morning & needing a second cup. Perhaps low in caffeine?
I wouldn't buy this again, definitely not worth the price.
This coffee is paired well with