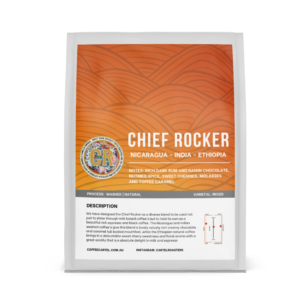 CHIEF ROCKER BLEND – NICARAGUA / INDIA / ETHIOPIA -2022
NOTES : RICH DARK RUM  AND RAISIN CHOCOLATE, NUTMEG SPICE, MOLASSES, SWEET CHERRY AND CARAMEL.
Named for the Lords of the Underground song, the Lord Chief Rocker is number one Mr. Funkee.
We have designed the Chief Rocker as a diverse blend to be used not just to shine through milk based coffee's but to hold its own as a beautiful rich espresso and black coffee. The Nicaragua and Indian washed coffee's give this blend a lovely velvety rich creamy chocolate and caramel full bodied mouthfeel, while the Ethiopian natural coffee brings in a delicatable sweet cherry sweetness and floral aroma with a great acidity that is a absolute delight in milk and espresso 
This gold medal blend is our absolute crowd pleaser roasted for consistency and style. Its complex its sweet and its big. We have designed this as a suitable drink for all taste types still giving it an edge for a blend. Suitable for black and milk the coffees are so clean it holds up in filter. We have had this as a consistent House blend since 2014 changing seasonal coffees each year that have a consistent flavour profile of chocolate, almonds and caramel.
Taste is fresh and amazing!
Delicious blend, the aroma is great!
I love good coffee
I like that I can order great coffee and it's delivered to my door out here in Warrnambool
Perfect house blend
We have started using the chief rocker as our house blend in our cafe, and its definitely a crowd favourite. Rich in flavour, smooth on the palette, overall a great brew.
Chief Rocker will rock some socks
Rocker has great body and will appeal to people who love their coffee with fruit acidity.
Great flavour, always on my shelf
This coffee is paired well with
You may also like…
$

20.00

or 4 payments of $5.00 with Afterpay

or 4 payments of $5.00 with Afterpay

Quick View