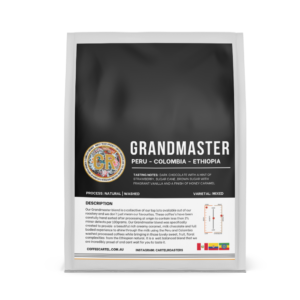 GRAND MASTER | PREMIUM BLEND | PERU – COLOMBIA – ETHIOPIA GR1 | 2020
NOTES: SWEET STRAWBERRIES, RASPBERRIES, LEMON CITRUS, RICH CARAMEL, MOLASSES, HEAVY CREAMY MILK CHOCOLATE AND A FRAGRANT MAGNOLIA.
Peru – Felipe Melo Mayo – Washed Process
Colombia – Tolima Estate – Washed Process
Ethiopia – Fulasa Gesha – Natural Process
Our Grandmaster blend is a collective of our top lots available out of our roastery and we don't just mean our favourites. These coffees have been carefully hand sorted after processing at origin to contain less than 3% minor defects per 100g. Our Grandmaster blend was created specifically to provide a beautiful rich creamy caramel, milk chocolate and full bodied experience to shine through the milk using the Peru and Colombia washed processed coffees while bringing in those lovely sweet, fruit, floral complexities of the natural Ethiopian. Its a tasty well balanced blend that we are proud to feature in our flagship store cafes and can not wait for you to experience.
Each particular coffee is methodically roasted. Working hard to roast each bean to allow its very best potential to shine from its terroir (earth and soil) to be confidently identified when brewing. Through years of experience we have perfected this wonderful roast approach which is brought about from years of trialing the S curve, with this we have focused on an aggressive roast into first crack and allow natural bean development with low heat through to second crack. Each coffee is carefully monitored so that natural complex sugars are formed with gentle bean development making the acidity shine and create sweetness in the cup. The grand master blend roasted by our head roaster is available through out the year using the finest traceable coffees we have personally sourced through extensive work in Africa and South America. Please enjoy and brew with care and respect.
GRAND MASTER | PREMIUM BLEND | [****] | 2020
GOOD but not worth the price
for 25$ a bag this is the most expensive blend you'll find across sydney and probably the whole of Australia.
It was a good blend with very striking flavour and good balance, but blends costs no more than 17-18$ each even at the most high end roasters elsewhere.
I dont know why Cartel is so overpriced. mostly just marketing more than other roasters
GRAND MASTER | PREMIUM BLEND | PERU – COLOMBIA – ETHIOPIA GR1 | 2020
Good fruity and chocolate nodes
Fantastic blend for all coffee lovers looking for fruity and chocolate blends. A good coffee to enjoy the second time as I need stronger first shot than this. But works well during the day. Overall a good coffee
Quick delivery, great coffee
This coffee is paired well with