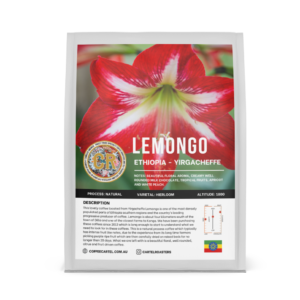 ETHIOPIA – LEMONGO – YIRGACHEFFE – NATURAL PROCESS
NOTES: BEAUTIFUL FLORAL AROMA, CREAMY WELL ROUNDED MILK CHOCOLATE, TROPICAL FRUITS, APRICOT AND WHITE PEACH.
Coffee all started in Ethiopia in the 9th Century when the goat-herder Kaldi, noticed his goats acting more spritely after consuming cherries from a certain plant. Kaldi tried the cherries and noticed some of the familiar effects that we all feel when we enjoy some of the good drink in the morning. While this is a popular account of the 'Discovery' of coffee, there are other accounts of traders chewing cherries on trade routes from Ethiopia in order to increase energy.
Ethiopia's history is full of dramatic changes. Over the last four decades, the Ethiopian people have lived under three different forms of government, which include a semi-feudal imperial, a military rule with Marxist ideological orientation from 1974-1991, and a federal governance system from 1991 until the present. All of these periods have been accompanied by dissatisfaction, armed resistance and rebellions.

Ethiopia has also confronted economic, social and environmental problems including a war with Eritrea from 1998-2000. This recent dispute with Eritrea as well other historical conflicts has provoked many damages, including lost lives, limited access to the land, emotional trauma, and extreme hunger.
Coffee still grows wild in Ethiopia's mountain forests. Ethiopian farmers cultivate coffee in four different systems, which include forest coffee, semi-forest coffee, garden coffee and plantation coffee. About 98% of the coffee in Ethiopia is produced by peasants on small farms and it is the country's most important export. Ethiopia is Africa's third largest coffee producer. There are about 700,000 coffee smallholders in Ethiopia, of which 54 percent are in semi forest areas. Coffee has been part of their indigenous cultural traditions for more than 10 generations.

Coffee is traded on the Ethiopian Commodities exchange (ECX) which unique to many other countries sets its own prices. Ethiopia Produced 7.1 Million Bags of Coffee in 2017-2018. Most Ethiopian Coffee goes to Germany and Saudi Arabia (about 20% Each) while Australia takes 2%. While most coffee does go through the ECX, reforms recently passed by the government have allowed larger farms and co-ops to market and sell their coffees directly to consumers, resulting in increased traceability and fairer pricing
This lovely coffee located from Yirgacheffe Lemongo is one of the most densely populated parts of Ethiopia southern regions and the country's leading progressive producer of coffee. Lemongo is about four kilometers south of the town of Dilla and one of the closest farms to Konga. We have been purchasing these coffees 2013 which is long enough to start to understand what we need to look for in these coffees. First it's a natural process coffee which typically what  normally has an intense fruit like note, due to the experience from its long time farmers picking ripe fruit carefully dried on raised beds for no longer than 20 days. What we have is a super clean yet vibrant cup of love. Yirgacheffe produces stunning coffees that are so unique that we can easily pick up the flavour profile what tasting. Every year we always look forward to sharing these coffees with you and especially the roasters release editions.
ETHIOPIA – LEMONGO – YIRGACHEFFE – NATURAL PROCESS
Wow, new favourite. Fruity, floral
I only drink black coffee so will be commenting from that standpoint. Another standout from Cartel. A lot of beauty in this bean. Floral notes are stand out, fruits and peach too. Chocolate note more subtle on my tastebuds, but it's def very well-rounded. I've have also had this as a cold-drip and it's perfect for warm summers. Really vibrant and joyful cup, this one.
Great citrus flavours
This is now my favourite coffee. I particularly like the citrus flavours you get from some high altitude grown coffees and this one has it. Smooth and fruity!! Highly recommend!!
Strongly recommended
Really fruity and smooth Yigacheffe. My favourite Yigacheffe brand so far.
Lemongo
The Lemongo is a very smooth satisfying coffee. It is consistently good.
This coffee is paired well with