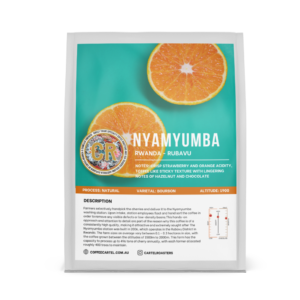 RWANDA – NYAMYUMBA – RUBAVU – NATURAL PROCESS
NOTES: CRISP STRAWBERRY AND ORANGE ACIDITY, TOFFEE LIKE STICKY TEXTURE WITH LINGERING NOTES OF HAZELNUT AND CHOCOLATE
The Nyamyumba station was built in 2006, which operates in the Rubavu District in Rwanda. The farm sizes on average vary between 0.1 – 0.3
hectares in size, with the coffee grown between the altitudes of 1500m to 2000m. This farm has the capacity to process up to 496 tons of cherry
annually, with each farmer allocated roughly 400 trees to maintain.

The coffee delivered to the Nyamyumba station is grown in nutrient-rich volcanic clay soils in the high-altitude hills of the Congo Nile trail that
stretches 277 kilometers. This section of land features beautiful landscapes of rolling hills and views of the clear waters of Lake Kivu with the land
being surrounded by the Gishwati National Forest.

Farmers selectively handpick the cherries and deliver it to the Nyamyumba washing station. Upon intake, station employees float and hand sort the
coffee in order to remove any visible defects or low-density beans.This hands-on approach and attention to detail are part of the reason why this
coffee is of a consistently high quality, making it attractive and extremely sought after.

In conjunction with their sustainability partner, Kahawatu Foundation, Sucafina Rwanda (Rwacof) invests heavily in farmer training and upholding
high standards when it comes to their agricultural processes. Rwacof's Farmer Field school shares information with all their producer partners about
the best agricultural practices, conservation tactics, and outlining the importance of only picking ripe cherries, alongside a plethora of additional
information.

The farmers are constantly invested in, with a direct focus on helping to improve their overall financial situation with annual bonuses handed out once
the coffee is sold. Furthermore, these payments are deposited into zero-fee bank accounts, that offer wider reaching benefits for the farmers, including
secure storage for their savings and the opportunity to build a financial credit history
This coffee is paired well with