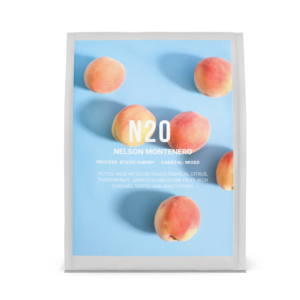 PANAMA – CCD CREATIVE COFFEE N 20 NELSON MONTENEGO
NOTES: WILD NOTES OF PEACH TROPICAL CITRUS, PASSIONFRUIT, APRICOTS AND STONE FRUIT, RICH CARAMEL TOFFEE AND WINEY FINISH.
CCD is a forward-looking Specialty Coffee producer at the Chiriquí province in Boquete, Panama. By transforming a traditional wet mill and drying patio into a modern state-of-the-art processing facility, CCD integrates art and specialty coffee in a unique and authentic space where artists are promoted and celebrated to inspire industry participants around the globe to support and demand new coffee production standards that guarantee higher incomes for growers and sustainable ecological practices for processing stations worldwide.
Coffee growers at Panama rarely get to process their coffee cherries in the way that the specialty coffee industry requires. At CCD, we are creating a community with those coffee growers committed to maintaining sustainable crops to buy their coffee cherries and process them at our station. With our state-of-the-art facilities and our innovative processing methods, we will challenge the status quo by changing the way that coffee farmers have used to grow, process, and market coffee.
Inspired by the Neighbors & Crops coffee model of LA PALMA & EL TUCAN in Colombia, we have established cooperating relationships with coffee producers in Hornito, Renacimiento, and Boquete. By controlling every step of the process, we are willing to push the limits and guarantee exceptional coffee profiles for Panama coffees.
The farms we work with are located at an altitude range between 1.300 and 1.800 m.a.s.l.
Static processing is a fermentation technique similar to those of Brutal Wine Makers regarding preservation of Micro-organisms and yeasts from the picking site to use to make natural fermentations of the coffee. Static ferments also refer to the length of time that the coffee is left in stainless steel at an ambient temperature. In this case, it was left for 144hrs in order to achieve new levels of flavour complexity.
Once fermented, the cherries are moved onto Panama's largest drying beds. Panama's climate raises a unusual issue as its +50 degree weather can lead to cherries drying out too fast. To combat this, cherries are meticulously turned every 2 hours during the day, and placed into small mounds and covered at night to ensure drying consistency. This continues for 15-20 days until they are moved into a mechanical dryer to be set on parchment and shipped to yours truly at Cartel in Australia.
Welcome to a journey towards inspiration, collaboration and change.
Out of this world
This is another level of bean. I'm about two years into trying different coffees and this is an exception to all other beans I've tried. I get a strong hit of milk chocolate at first sniff. Strong tropical fruit body on the tongue and then the caramel/wine finish. That chocolate fragrance stays the whole time for me though. Really something quite unique.
CCD
This coffee was good but not mind blowing.
Epic!!
Spectacular. Fresh, citrus notes, hazelnut finish
This coffee is paired well with