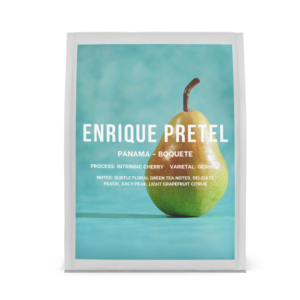 PANAMA – CCD CREATIVE COFFEE – ENRIQUE PRETEL- GESHA – 72 HR INTRINSIC CHERRY PROCESS
NOTES: SUBTLE FLORAL GREEN TEA NOTES, DELICATE PEACH, JUICY PEAR, LIGHT GRAPEFRUIT CITRUS
Enrique Pretel is a 77-year-old coffee producer in Boquete. His farm is six hectares in size, currently cultivating 7,000 coffee trees. He has had the property for a total of 12 years, with eight of them devoted almost exclusively to coffee production.
Enrique sees the potential value in coffee as a means of economic stability and employs up to 10 people in the area to ensure the highest quality cherry. He thinks that art and coffee are the perfect combinations to keep youth interested in the industry. When asked what color he identifies his coffee with, he responded purple, like a perfectly ripened coffee cherry.
CCD is a forward-looking Specialty Coffee producer at the Chiriquí province in Boquete, Panama. By transforming a traditional wet mill and drying patio into a modern state-of-the-art processing facility, CCD integrates art and specialty coffee in a unique and authentic space where artists are promoted and celebrated to inspire industry participants around the globe to support and demand new coffee production standards that guarantee higher incomes for growers and sustainable ecological practices for processing stations worldwide.
Coffee growers at Panama rarely get to process their coffee cherries in the way that the specialty coffee industry requires. At CCD, we are creating a community with those coffee growers committed to maintaining sustainable crops to buy their coffee cherries and process them at our station. With our state-of-the-art facilities and our innovative processing methods, we will challenge the status quo by changing the way that coffee farmers have used to grow, process, and market coffee.
Inspired by the Neighbours & Crops coffee model of LA PALMA & EL TUCAN in Colombia, we have established cooperating relationships with coffee producers in Hornito, Renacimiento, and Boquete. By controlling every step of the process, we are willing to push the limits and guarantee exceptional coffee profiles for Panama coffees.
The farms we work with are located at an altitude range between 1.300 and 1.800 m.a.s.l.
For this process "Intrinsic Cherry Process" they ferment the cherry in the very same bag they come in, It is in this way there process maintains the essence of each micro-lot. The bacteria and yeast strains are unique and vary in each batch, and by involving them in the fermentation they let the essence of the cherry shine. They open the fermentation enviroment to the air  and allow nature to guide the temperature which averages at 30 degress celcius. In this case they keep an eye out to keep temperatures below 45 degrees celcius to prevent the cherries from overheating. They keep the fermentation times between 12 to 72 hours because the soaring temperatures of there natural enviroment result in drastic changes of the cherry cell structure and rapid embryo death, completely changing the cup profile which this particular lot being fermenting for 72 hours.
Welcome to a journey towards inspiration, collaboration and change.
This coffee is paired well with