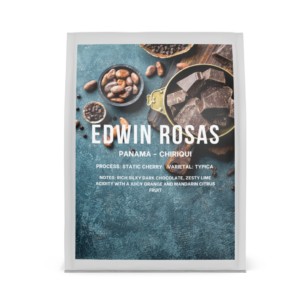 PANAMA – CCD CREATIVE COFFEE – EDWIN ROSA – 79 HR STATIC CHERRY PROCESS
NOTES: RICH SILKY DARK CHOCOLATE, ZESTY LIME ACIDITY WTH A JUICY ORANGE AND MANDARIN CITRUS FRUIT
CCD is a forward-looking Specialty Coffee producer at the Chiriquí province in Boquete, Panama. By transforming a traditional wet mill and drying patio into a modern state-of-the-art processing facility, CCD integrates art and specialty coffee in a unique and authentic space where artists are promoted and celebrated to inspire industry participants around the globe to support and demand new coffee production standards that guarantee higher incomes for growers and sustainable ecological practices for processing stations worldwide.
Coffee growers at Panama rarely get to process their coffee cherries in the way that the specialty coffee industry requires. At CCD, we are creating a community with those coffee growers committed to maintaining sustainable crops to buy their coffee cherries and process them at our station. With our state-of-the-art facilities and our innovative processing methods, we will challenge the status quo by changing the way that coffee farmers have used to grow, process, and market coffee.
Inspired by the Neighbors & Crops coffee model of LA PALMA & EL TUCAN in Colombia, we have established cooperating relationships with coffee producers in Hornito, Renacimiento, and Boquete. By controlling every step of the process, we are willing to push the limits and guarantee exceptional coffee profiles for Panama coffees.
The farms we work with are located at an altitude range between 1.300 and 1.800 m.a.s.l.
For this process "Static Cherry", the ambient environment is crucial. They seal the cherry into plastic tanks, with no oxygen present. By creating an anaerobic environment, They allow certain bacteria and yeast to develop at a slower rate. This means they are free to experiment with different durations, in this case it was 79 hours. These relatively short fermentations lend a subtle vibrancy to the profile, due to the prevalence of lactic acids in the cherry.
Once fermented, the cherries are moved onto Panama's largest drying beds. Panama's climate raises a unusual issue as its +50 degree weather can lead to cherries drying out too fast. To combat this, cherries are meticulously turned every 2 hours during the day, and placed into small mounds and covered at night to ensure drying consistency. This continues for 15-20 days until they are moved into a mechanical dryer to be set on parchment and shipped to yours truly at Cartel in Australia.
Welcome to a journey towards inspiration, collaboration and change.
Great daily premium coffee fix
This is a premium daily coffee, which has a nice dark chocolate tinge to it. Great starter for the day!
Edwin Rosas
Can I write, best F'ing coffee experience of all time! What an absolutely banger.. a clear mile in front of anything else I have enjoyed as a barista
This coffee is paired well with