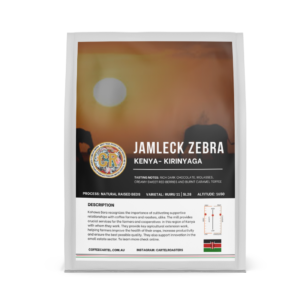 KENYA – JAMLECK ZEBRA – SL28/RUIRU 11 – NATURAL PROCESS
NOTES: RICH DARK CHOCOLATE, MOLASSES, CREAMY SWEET RED BERRIES AND BURNT CARAMEL TOFFEE
Kahawa Bora Millers is operated by our sister company, Kenyacof/Sucafina Kenya. The mill opened in July 2018 in Thika, Central Kenya and finances, supports and mills a wide range of coffee qualities. The focus of the mill is to be a service provider offering micro-milling for small estates and individual growers across Kenya.
Kahawa Bora recognizes the importance of cultivating supportive relationships with coffee farmers and roasters, alike. The mill provides crucial services for the farmers and cooperatives with whom they work. They provide key agricultural extension work, helping farmers improve the health of their crops, increase productivity and ensure the best possible quality. They also support innovation in the small estate sector.
Kahawa Bora also, more generally, lends their own expertise in quality processing to their clients, providing feedback and contributing to their knowledge of processing methods and evolving market demand.
Most small estate owners do not typically produce enough coffee to fill 50 bags with parchment beans, the smallest quantity mills will generally process. Before Kahawa Bora was established, mills and marketing agents would have to blend smaller lots from multiple estates before bringing it to the mill. This meant that coffee from small estates was often anonymized, which could also limit payment for recognition or quality.
Before operating their own mill, our sister company solved this problem by blending lots from approximately 4-8 producers living in the same area —such as with our Slopes of 8 coffees. This method also allowed producers to maintain the identity behind their coffee and gave them collective control over price expectations. Kahawa Bora's microlot program is one more option that producers can choose along this vein.
With the purchase of the Kahawa Bora mill, it is now even easier to keep traceability intact all the way from the individual farmer who grew the lot through to the roaster. Thanks to the mill, small estate owners can receive larger payouts for to their high-quality production and link their name to their coffees for consumers to see.
For farmers, having their name and life story connected to their coffee, which is then purchased and seen by the end user, can bring many benefits. It means that they can nurture long-term relationships with roasters and increase the value of their product. For roasters, connecting farmers' stories to the coffees they grew can create a stronger customer interest for specific coffees, added value and demand, and help finance successful long-term relationships with farmers.
Choc and Toffee Lovers
Very nice rich chocolate flavour with the burnt caramel toffee aftertaste. Have my morning coffee black and this is a lovely starter – the toffee comes through nicely at the end … flavours strong enough to not be overshadowed by milk additive …
Dark and Luxurious
Chocolate, refreshing taste and crema to boot….
KENYA – JAMLECK ZEBRA – SL28/RUIRU 11 – NATURAL PROCESS
Body and After Taste
It has a strong and smooth body but the most distinguishing characteristic is the wonderful after taste! Time for another cup.
Lovely coffee if you like it strong & dark
This is great coffee, not quite fruity enough for me but still nice. And as always, fantastic service from Cartel Roasters!
This coffee is paired well with