Gesha Village 2020 Oma Lot 95 Natural
Lot 95 is one of those Naturals that make you go WOW! Strawberries, Cherry, Cola, Blood orange Sparkling acidity. Sitting firmly in the red end of the flavour wheel. If you are inclined to pair this one with
Good Intentions Frankie 2019
for a ripper good time.
Listen to the Audiotrack explaining abit more about this coffee
Gesha Village. The Birthplace of Gesha. Once again we are excited to welcome these coffees into our portfolio. Gesha Village is an excellent project that merges the best of Ethiopian central washing station practices, with expert estate management and traceability.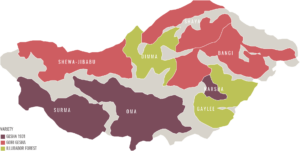 Gesha Village in 2020 has been busy perfecting traditional coffee processing like Natural, Honey, and Washed. But they have also been playing with Carbonic Fermentation al la Beaujolais. This year we have secured their natural lots, as well as the carbonic macerated lots. We have received a mixture of 1931 Gesha, Gori Gesha and Illubabor Forest.
-Gori Gesha is the Gesha varietal found in Gesha Village forests.
-Gesha 1931 Resembles the 'original' Gesha found in Panama, selected based on cherry growth as well as bean size and shape
-Illubabor Forest is a disease resistant variety found in the namesake forest
Exceptional coffee!
This coffee is one of the best I've ever drank and the best I've brewed myself. Like the label says expect strawberries, very ripe and vibrant strawberries. I found that specific flavour to be most prolific about four days after roasting and for about another week. After this the flavours tended to be more blood orange and the strawberry was more of a background. This is also true as the coffee cools. I cupped it (great way to see true flavour and also used my V60 and Kalita, both producing excellent cups once dialled in. Although quite pricey, well worth the splurge. Cheers.
This coffee is paired well with