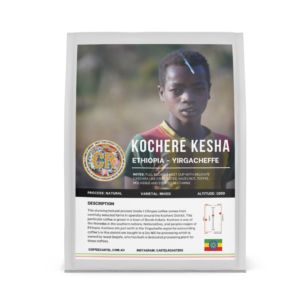 ETHIOPIAN – KOCHERE KESHA – YIRGACHEFFE – NATURAL PROCESS
NOTES: FULL BODIED SWEET CUP WITH DELICATE CASCARA LIKE FRUIT NOTES, HAZELNUT, TOFFEE, MOLASSES AND STEWED NECTARINE
Kochere is the home of many small regional family farms. Through their dedication to coffee quality, Kochere coffee is always spectacular though in saying that all of the Ethiopian coffees that we purchase at Cartel are selected on the basis of their exceptional cup profile first and foremost. This remains our guiding principle in Ethiopia and in all origins where we source coffees. We also believe in ascribing to the standards and laws set out by the originating countries and will always operate 100% within these.Yirgacheffe is actually part of the Sidamo region in southern Ethiopia, but its exquisite washed & Natural coffees are so well-known that is has been sub-divided into its own micro-region. This steep, green area is both fertile and high – much of the coffee grows at 2,000m and above
We are monitoring the situation in Ethiopia with regard to traceability. But regardless of developments,
Coffee all started in Ethiopia in the 9th Century when the goat-herder Kaldi, noticed his goats acting more spritely after consuming cherries from a certain plant. Kaldi tried the cherries and noticed some of the familiar effects that we all feel when we enjoy some of the good drink in the morning. While this is a popular account of the 'Discovery' of coffee, there are other accounts of traders chewing cherries on trade routes from Ethiopia in order to increase energy. Ethiopia's history is full of dramatic changes. Over the last four decades, the Ethiopian people have lived under three different forms of government, which include a semi-feudal imperial, a military rule with Marxist ideological orientation from 1974-1991, and a federal governance system from 1991 until the present. All of these periods have been accompanied by dissatisfaction, armed resistance and rebellions. Ethiopia has also confronted economic, social and environmental problems including a war with Eritrea from 1998-2000. This recent dispute with Eritrea as well other historical conflicts has provoked many damages, including lost lives, limited access to the land, emotional trauma, and extreme hunger.
Coffee still grows wild in Ethiopia's mountain forests. Ethiopian farmers cultivate coffee in four different systems, which include forest coffee, semi-forest coffee, garden coffee and plantation coffee. About 98% of the coffee in Ethiopia is produced by peasants on small farms and it is the country's most important export. Ethiopia is Africa's third largest coffee producer. There are about 700,000 coffee smallholders in Ethiopia, of which 54 percent are in semi forest areas. Coffee has been part of their indigenous cultural traditions for more than 10 generations.

Ethiopia Yirgacheffe
Smooth and full of favour 👌 have as espresso with milk helps me get though my day while studying 📖 😋
My current favourite
Have been ordering from Cartel for years and have tried many of their different coffees. This one is my current fave. I drink it as an espresso or with milk. 1 star off because one of the packets was torn in my last two orders – needs more protection for postage.
This coffee is paired well with