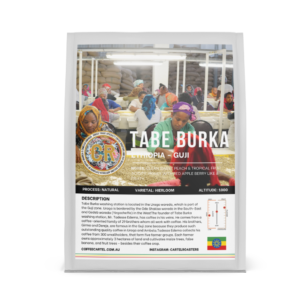 ETHIOPIA – TABE BURKA – GUJI – HEIRLOOM VARIETAL – NATURAL PROCESS
NOTES: CLEAN SWEET PEACH AND TROPICAL FRUIT ACIDITY, HONEY WITH RED APPPLE, BERRY LIKE & FRUITY FINISH
Tabe Burka washing station is located in the Uraga woreda, which is part of the Guji zone. Uraga is bordered by the Ode Shakiso woreda in the South-East and Gedeb woreda (Yirgacheffe) in the West
The founder of Tabe Burka washing station, Mr. Tadesse Edema, has coffee in his veins. He comes from a coffee-oriented family of 29 brothers whom all work with coffee. His brothers, Girma and Dereje, are famous in the Guji zone because they produce such outstanding quality coffee in Uraga and Ambela.
Tadesse Edema collects his coffee from 300 smallholders, that form five farmer groups. Each farmer owns approximately 3 hectares of land and cultivates maize trees, false banana, and fruit trees – besides their coffee crop. Tadesse pays the farmers groups in advance when harvest begins. This gives the smallholders enough incentive to harvest quality.
The water from the Burka river is used to wash the coffee from Tabe Burka site. Coffee is fermented for 24 – 36 hours. Naturals are dried for 15 – 18 days.
Guji Coffee
The Oromo people of Guji consider their region as the ancestral cradle of Oromo culture. The ceremonies, rituals, and lore that come forth of the Gada age-group system, are still subsequently and widely practiced among Guji's inhabitants. Besides the system, coffee farming has ancient roots within the Guji culture – the two are inseparable.Coffee professionals throughout the world are realizing that Guji, as a coffee region, is significantly different than its neighboring regions, Sidamo and Yirgacheffe. Guji zone was previously categorized as a sub-region of Sidamo, but has proven itself as distinct. It has gained reputation and stature because of its unique and differentiating flavor
SOME HISTORY ON ETHIOPIA
Ethiopia earned 866 million USD exporting 221,000 tons of coffee during its last fiscal year .
According to Ethiopian Coffee & Tea Development and Marketing Authority, it has accomplished 92 per cent of its set goal to increase coffee exports. " It is a very great achievement compared to nation's previous years' coffee export performance ."
Comparing to the coffee export volumes of 2015/16, there had been 11.5 Per cent growth in the coffee exports during the just concluded fiscal year 2016-17. Plus ,the foreign earning from coffee has raised by 20 percent due to the global coffee price hikes .
In a recent exclusive interview with The Ethiopian Herald, Market Development and Promotion Directorate Director Dassa Daniso said: " Ethiopian Coffee has been imported to over 60 countries. But, this year, 57 countries have imported our coffee, particularly, 86 per cent ofthe total coffee exports destined for Germany, Saudi Arabia, Japan, USA, Belgium, Sudan, South Korea, among others."
Coffee all started in Ethiopia in the 9th Century when the goat-herder Kaldi, noticed his goats acting more spritely after consuming cherries from a certain plant. Kaldi tried the cherries and noticed some of the familiar effects that we all feel when we enjoy some of the good drink in the morning. While this is a popular account of the 'Discovery' of coffee, there are other accounts of traders chewing cherries on trade routes from Ethiopia in order to increase energy. Ethiopia's history is full of dramatic changes. Over the last four decades, the Ethiopian people have lived under three different forms of government, which include a semi-feudal imperial, a military rule with Marxist ideological orientation from 1974-1991, and a federal governance system from 1991 until the present. All of these periods have been accompanied by dissatisfaction, armed resistance and rebellions. Ethiopia has also confronted economic, social and environmental problems including a war with Eritrea from 1998-2000. This recent dispute with Eritrea as well other historical conflicts has provoked many damages, including lost lives, limited access to the land, emotional trauma, and extreme hunger.
Coffee still grows wild in Ethiopia's mountain forests. Ethiopian farmers cultivate coffee in four different systems, which include forest coffee, semi-forest coffee, garden coffee and plantation coffee. About 98% of the coffee in Ethiopia is produced by peasants on small farms and it is the country's most important export. Ethiopia is Africa's third largest coffee producer. There are about 700,000 coffee smallholders in Ethiopia, of which 54 percent are in semi forest areas. Coffee has been part of their indigenous cultural traditions for more than 10 generations.

This coffee is paired well with