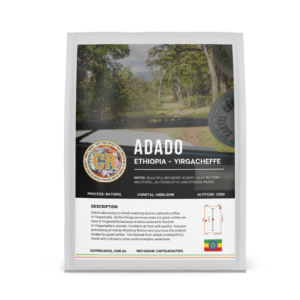 ETHIOPIA – ADADO- YIRGACHEFFE – HEIRLOOM VARIETAL -NATURAL PROCESS G1
NOTES: BEAUTIFUL RED BERRY ACIDITY, SILKY BUTTERY MOUTHFEEL, BUTTERSCOTCH AND STEWED FRUITS.
Adado is an area close to the town of Yirgacheffe in the Gedeo zone of Southern Ethiopia. It is named after the Adado tribe, and has some of the highest coffee growing coffee in the country, ranging between 2000 and 2350 masl. It is estimated that there are approximately 7000 producers in this area, who deliver cherry to 8 washing stations, which in turn produce between 20 and 30 containers of coffee for export each year.
Yirgacheffe is both a town and grade of coffee in Ethiopia. The town itself is located in the Gedeo zone in the Southern Nations and Nationalities Peoples Regional State (SNNPRS) in Southern Ethiopia. More than any other country, Ethiopia has a broad genetic diversity among its coffee varieties. Hierloom varietals are a wild and mysterious mixture of indigenous wildflower varieties, and each zone or village has its own flavour profile, shaped over many years according to growing conditions such as soil and elevation and climate. Processing in Yirgacheffe can take the form of both washed and natural. Much of the coffee production in Ethiopia is undertaken using traditional methods; under shade trees alongside other crops and without the use of chemicals. This region is often referred to as 'garden coffee' as it is grown on very small plots, often in the back yard of small dwellings.
Coffee in Ethiopia has been traded on the Ethiopia Commodity Exchange since 2008. The ECX was established to create an element of collective bargaining for farmers who are not members of cooperatives or owning large estates. Previously, only a third of all the agricultural products produced in Ethiopia reached the market due to the high costs and risks involved with trading. There was no assurance of product quality or quantity which meant buyers would only trade with suppliers they knew and trusted. This resulted in many of Ethiopia's agricultural producers becoming isolated from the market, forcing them to sell their produce to the nearest buyer, sometimes a chain of multiple middlemen, and leaving them unable to negotiate on price or improve their market position.
With the introduction of the ECX, coffee exports in Ethiopia have become more regulated and centralized, enabling more smallholder producers to have access to the global market. Ninety per cent of all the coffee produced in Ethiopia now moves through the ECX where it is cupped and graded according to flavour profile and quality. Since its inception in 2008, the ECX claims to have introduced:
SOME HISTORY ON ETHIOPIA
Ethiopia earned 866 million USD exporting 221,000 tons of coffee during its last fiscal year .
According to Ethiopian Coffee & Tea Development and Marketing Authority, it has accomplished 92 per cent of its set goal to increase coffee exports. " It is a very great achievement compared to nation's previous years' coffee export performance ."
Comparing to the coffee export volumes of 2015/16, there had been 11.5 Per cent growth in the coffee exports during the just concluded fiscal year 2016-17. Plus ,the foreign earning from coffee has raised by 20 percent due to the global coffee price hikes .
In a recent exclusive interview with The Ethiopian Herald, Market Development and Promotion Directorate Director Dassa Daniso said: " Ethiopian Coffee has been imported to over 60 countries. But, this year, 57 countries have imported our coffee, particularly, 86 per cent ofthe total coffee exports destined for Germany, Saudi Arabia, Japan, USA, Belgium, Sudan, South Korea, among others."
Coffee all started in Ethiopia in the 9th Century when the goat-herder Kaldi, noticed his goats acting more spritely after consuming cherries from a certain plant. Kaldi tried the cherries and noticed some of the familiar effects that we all feel when we enjoy some of the good drink in the morning. While this is a popular account of the 'Discovery' of coffee, there are other accounts of traders chewing cherries on trade routes from Ethiopia in order to increase energy. Ethiopia's history is full of dramatic changes. Over the last four decades, the Ethiopian people have lived under three different forms of government, which include a semi-feudal imperial, a military rule with Marxist ideological orientation from 1974-1991, and a federal governance system from 1991 until the present. All of these periods have been accompanied by dissatisfaction, armed resistance and rebellions. Ethiopia has also confronted economic, social and environmental problems including a war with Eritrea from 1998-2000. This recent dispute with Eritrea as well other historical conflicts has provoked many damages, including lost lives, limited access to the land, emotional trauma, and extreme hunger.
Coffee still grows wild in Ethiopia's mountain forests. Ethiopian farmers cultivate coffee in four different systems, which include forest coffee, semi-forest coffee, garden coffee and plantation coffee. About 98% of the coffee in Ethiopia is produced by peasants on small farms and it is the country's most important export. Ethiopia is Africa's third largest coffee producer. There are about 700,000 coffee smallholders in Ethiopia, of which 54 percent are in semi forest areas. Coffee has been part of their indigenous cultural traditions for more than 10 generations.

Excellent
This coffee has the citrus finish that I like along with a smooth chocolate flavour. I drink it as black expresso. This is one that I will buy again.
Adado
Really nice beans, great complexity of berries and acidity, great for espresso and long black!
Well worth getting again
Fantastic bean
The description of the bean provided on the packet is spot on. Not much else to add. It was a beautiful coffee with a fruity, fresh flavour. New favourite for sure
Tastes great!
Have been getting this for about two years now and love the taste. Both with or without milk, the flavour is delicious. Also really happy with the postage – I live interstate and always receive my package about 2 days after I order. Great service!
New favourite
Can't go wrong with the range of Ethiopian coffee at Cartel but Adado stand out as my favourite one.
This coffee is paired well with