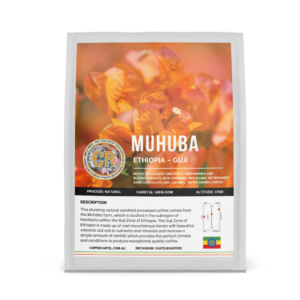 ETHIOPIA – MUHUBA GR1 – HAMBELA – GUJI – NATURAL PROCESS – HIERLOOM VARIETAL
ETHIOPIA – MUHUBA GR1 – HAMBELA – GUJI – NATURAL PROCESS – HIERLOOM VARIETAL
NOTES: SUCCULENT AND SWEET RASPBERRIES AND BLACKCURRANTS, RICH CHERRIES, RIPE PLUMS, BITTERSWEET DARK CHOCOLATE AND CARAMEL. OUTSTANDING COFFEE.
Listen to the Audiotrack explaining abit more about this coffee
NOTES: SUCCULENT AND SWEET RASPBERRIES AND BLACKCURRANTS, RICH CHERRIES, RIPE PLUMS, BITTERSWEET DARK CHOCOLATE AND CARAMEL.
This stunning natural sundried processed coffee comes from the Muhaba farm, which is located in the subregion of Hambella within the Guji Zone of Ethiopia. The Guji Zone of Ethiopia is made up of vast mountainous terrain with beautiful volcanic soil rich in nutrients and minerals and recieves a ample amount of rainfall which provides the perfect climate and conditions to produce exceptional quality coffee. Most producers in Ethiopia are small holders and the majority continue to cultivate using traditional practices. As a result, most coffee is grown with no chemical fertilizer or pesticide use and the coffee is almost entirely cultivated , harvested and dried using manual systems and select hand picking, The farmers here at Muhaba are very well trained and use these practices to produce this incredble Grade 1 coffee. During cupping we experienced lovely red fruits, rich cherries and stonefruit upfront followed by a bright tart acidity with a dark chocolate and caramel finish. We love receiving this coffee every year and hope you just sip and enjoy.

–
Coffee all started in Ethiopia in the 9th Century when the goat-herder Kaldi, noticed his goats acting more spritely after consuming cherries from a certain plant. Kaldi tried the cherries and noticed some of the familiar effects that we all feel when we enjoy some of the good drink in the morning. While this is a popular account of the 'Discovery' of coffee, there are other accounts of traders chewing cherries on trade routes from Ethiopia in order to increase energy. Ethiopia's history is full of dramatic changes. Over the last four decades, the Ethiopian people have lived under three different forms of government, which include a semi-feudal imperial, a military rule with Marxist ideological orientation from 1974-1991, and a federal governance system from 1991 until the present. All of these periods have been accompanied by dissatisfaction, armed resistance and rebellions. Ethiopia has also confronted economic, social and environmental problems including a war with Eritrea from 1998-2000.
This recent dispute with Eritrea as well other historical conflicts has provoked many damages, including lost lives, limited access to the land, emotional trauma, and extreme hunger.Coffee still grows wild in Ethiopia's mountain forests. Ethiopian farmers cultivate coffee in four different systems, which include forest coffee, semi-forest coffee, garden coffee and plantation coffee. About 98% of the coffee in Ethiopia is produced by peasants on small farms and it is the country's most important export. Ethiopia is Africa's third largest coffee producer. There are about 700,000 coffee smallholders in Ethiopia, of which 54 percent are in semi forest areas. Coffee has been part of their indigenous cultural traditions for more than 10 generations.
Coffee is traded on the Ethiopian Commodities exchange (ECX) which unique to many other countries sets its own prices. Ethiopia Produced 7.1 Million Bags of Coffee in 2017-2018. Most Ethiopian Coffee goes to Germany and Saudi Arabia (about 20% Each) while Australia takes 2%. While most coffee does go through the ECX, reforms recently passed by the government have allowed larger farms and co-ops to market and sell their coffees directly to consumers, resulting in increased traceability and fairer pricing.
Loving the beans from Coffee Cartel.
Got 3 varieties Grandmaster, Muhuba and Atara Gedecho, all delicious but Muhuba a favourite
ETHIOPIA – MUHUBA GR1 – HAMBELA – GUJI – NATURAL PROCESS – HIERLOOM VARIETAL
fantastic coffee
A little weak flavoured when having as milk coffee, but as filtered this is definitely an all rounder with great body, not too heavy and surprisingly refreshing. Recommend if you're unsure what you feel like or unsure where to start.
Nice flavour but not as strong as my favorite blend
Hits all the right notes
I run a little coffee appreciation club at uni/lab/work where any one can consume what we have to offer. Objectively this coffee is the bomb. Everyone from super seasoned specialty coffee drinkers to students who have only ever drank instant/pods loved this coffee and were blown away. It tastes amazing black and robust enough to cut through milk. Also tremendous value for money given how delectably flavourful it is. Can not recommend this product enough.
This coffee is paired well with