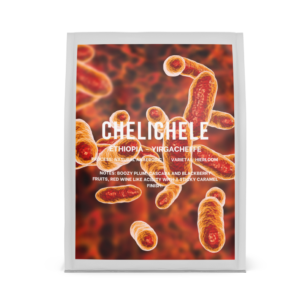 ETHIOPIA – CHELICHELE GRADE 1 – YIRGACHEFFE – NATURAL ANAEROBIC PROCESS
NOTES: BOOZY PLUM, CASCARA AND BLACKBERRY FRUITS, RED WINE LIKE ACIDITY WITH A STICKY CARAMEL FINISH.
The process is to 'ferment' the coffee in a fully sealed and oxygen deprived bag. First, the cherries are collected and separated from under ripe, over ripe and green cherries. Then, only the best fully ripe cherries are selected and tightly packed into special polypropylene bags.Oxygen is removed from the bags by sucking the air with vacuum machine. The bags are well sealed to prevent any oxygen re-entering. After around 18-24 hours, the anaerobic process will start and a build-up of CO2 gasses in the bag will occur. Typically, the cherries will be fermented for 4-5 days in the bags allowing the mucilage a long contact time with the coffee seed and the flavours of the sweet fruit to impart on the coffee. When the process is complete, the bright red cherry colour has charged to yellow tones. Once carefully removed from the tank, the coffee is dried slowly for 15-18 days on African drying beds in the full sun
 Coffee all started in Ethiopia in the 9th Century when the goat-herder Kaldi, noticed his goats acting more spritely after consuming cherries from a certain plant. Kaldi tried the cherries and noticed some of the familiar effects that we all feel when we enjoy some of the good drink in the morning. While this is a popular account of the 'Discovery' of coffee, there are other accounts of traders chewing cherries on trade routes from Ethiopia in order to increase energy. Ethiopia's history is full of dramatic changes. Over the last four decades, the Ethiopian people have lived under three different forms of government, which include a semi-feudal imperial, a military rule with Marxist ideological orientation from 1974-1991, and a federal governance system from 1991 until the present. All of these periods have been accompanied by dissatisfaction, armed resistance and rebellions. Ethiopia has also confronted economic, social and environmental problems including a war with Eritrea from 1998-2000. This recent dispute with Eritrea as well other historical conflicts has provoked many damages, including lost lives, limited access to the land, emotional trauma, and extreme hunger.
Coffee still grows wild in Ethiopia's mountain forests. Ethiopian farmers cultivate coffee in four different systems, which include forest coffee, semi-forest coffee, garden coffee and plantation coffee. About 98% of the coffee in Ethiopia is produced by peasants on small farms and it is the country's most important export. Ethiopia is Africa's third largest coffee producer. There are about 700,000 coffee smallholders in Ethiopia, of which 54 percent are in semi forest areas. Coffee has been part of their indigenous cultural traditions for more than 10 generations.

Coffee is traded on the Ethiopian Commodities exchange (ECX) which unique to many other countries sets its own prices. Ethiopia Produced 7.1 Million Bags of Coffee in 2017-2018. Most Ethiopian Coffee goes to Germany and Saudi Arabia (about 20% Each) while Australia takes 2%. While most coffee does go through the ECX, reforms recently passed by the government have allowed larger farms and co-ops to market and sell their coffees directly to consumers, resulting in increased traceability and fairer pricing
Smooth to the end
Right from the start this is a nice smooth coffee. I can taste the plum and the caramel is definitely the taste I get all the way through to the end, and the after flavour, however it is not overwhelming, just a stand-out for me. It is still strong in body so milk would be nice, but I enjoy it black without a sweetener!
Ethiopian single origin at its best
This is the coffee I've been missing for so long. I buy and try lots of different coffees from Cartel but this is on another level. Bursting with intricate levels of delicate flavour. Amazing as an espresso and stands up well to milk also. Don't miss out, I'll be ordering more!
This is one of my top three coffees of choice, period. Hard not to go back for seconds (or thirds), distinct toffee and plum with notes of blackberry from time to time. Highly recommend
ETHIOPIA – CHELICHELE GRADE 1 – YIRGACHEFFE – NATURAL ANAEROBIC PROCESS
This coffee is paired well with