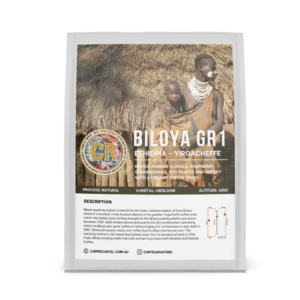 ETHIOPIA – BILOYA – YIRGACHEFFE – NATURAL PROCESS
NOTES: JASMINE FLORALS, RASPBERRY, STRAWBERRIES, RED GRAPES AND CHERRY WITH A CREAMY TOFFEE FINISH.
washing station is named for the town, called a kebele, of Kore Biloya where it is located, in the Kochere district of the greater Yirgacheffe coffee area within the Gedeo Zone.Coffees brought to the Biloya washing station are grown between 1700-2000 meters above sea level by the 211 smallholders delivering cherry to Biloya who grow coffee on farms roughly 0.5-2.0 hectares in size. Built in 2001, Biloya processes nearly one million kg of coffee cherries per year. The washing station's 138 raised drying beds cover the 2.5 hectares of land at 1700 masl. Biloya employs both men and women to process both Washed and Natural Coffee.
Coffee cherries delivered to the washing station are first separated by hand to remove the less dense cherries. The remaining cherry is then taken to raised beds to dry in the sun, which takes about 21 days. Biloya's employees turn the cherries by hand as the coffees dry. The mesh material allows for airflow both above and below the coffee to prevent the formation of any mildew or mold.
Natural processed coffee dried with cherry is then milled to remove the husks and stored in the dry mill warehouse. Beans are packaged in clearly marked 60kg bags for export.
 Coffee all started in Ethiopia in the 9th Century when the goat-herder Kaldi, noticed his goats acting more spritely after consuming cherries from a certain plant. Kaldi tried the cherries and noticed some of the familiar effects that we all feel when we enjoy some of the good drink in the morning. While this is a popular account of the 'Discovery' of coffee, there are other accounts of traders chewing cherries on trade routes from Ethiopia in order to increase energy. Ethiopia's history is full of dramatic changes. Over the last four decades, the Ethiopian people have lived under three different forms of government, which include a semi-feudal imperial, a military rule with Marxist ideological orientation from 1974-1991, and a federal governance system from 1991 until the present. All of these periods have been accompanied by dissatisfaction, armed resistance and rebellions. Ethiopia has also confronted economic, social and environmental problems including a war with Eritrea from 1998-2000. This recent dispute with Eritrea as well other historical conflicts has provoked many damages, including lost lives, limited access to the land, emotional trauma, and extreme hunger.
Coffee still grows wild in Ethiopia's mountain forests. Ethiopian farmers cultivate coffee in four different systems, which include forest coffee, semi-forest coffee, garden coffee and plantation coffee. About 98% of the coffee in Ethiopia is produced by peasants on small farms and it is the country's most important export. Ethiopia is Africa's third largest coffee producer. There are about 700,000 coffee smallholders in Ethiopia, of which 54 percent are in semi forest areas. Coffee has been part of their indigenous cultural traditions for more than 10 generations.

Coffee is traded on the Ethiopian Commodities exchange (ECX) which unique to many other countries sets its own prices. Ethiopia Produced 7.1 Million Bags of Coffee in 2017-2018. Most Ethiopian Coffee goes to Germany and Saudi Arabia (about 20% Each) while Australia takes 2%. While most coffee does go through the ECX, reforms recently passed by the government have allowed larger farms and co-ops to market and sell their coffees directly to consumers, resulting in increased traceability and fairer pricing
This coffee is paired well with