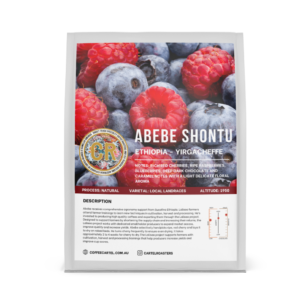 ETHIOPIA – ABEBE SHONTU – YIRGACHEFFE – NATURAL PROCESS
NOTES: RICH RED CHERRIES, RIPE RASPBERRIES, BLUEBERRIES, DEEP DARK CHOCOLATE AND CARAMEL NOTES WITH A LIGHT DELICATE FLORAL AROMA
As part of the Lalisaa project, Abebe receives comprehensive agronomy support from Sucafina Ethiopia. Lalisaa farmers attend farmer trainings to learn new techniques in cultivation, harvest and processing.
He's invested to producing high quality coffees and exporting them through the Lalisaa project. Designed to support farmers by shortening the supply chain and increasing their returns, the Lalisaa project works with dedicated smallholder producers to expand market access, improve quality and increase yields.
Abebe Shontu uses agroforestry techniques to produce both food and cash crops. Agroforestry also creates the ideal shaded microclimate for his coffee.
Coffee is intercropped with food and other cash crops using agroforestry techniques. Abebe's farm is organic by default. He upkeeps his farm with periodic mulching, composting and pruning to boost yields.
Abebe selectively handpicks ripe, red cherry and lays it to dry on raised beds. He turns cherry frequently to ensure even drying. It takes approximately 2 to 4 weeks for cherry to dry.
The Lalisaa project supports farmers with cultivation, harvest and processing trainings that help producers increase yields and improve cup scores.
Yirgacheffe coffees have become globally renowned for their unique flavor profiles and quality. The Yirgacheffe region of Ethiopia produces some of the world's most sought-after and highly-prized Arabica coffee beans. This introductory chapter will provide an overview of the terroir and history of Yirgacheffe coffee production.
The Yirgacheffe region is considered the birthplace of coffee, with wild coffee plants first grown in the hills and forests of southern Ethiopia. It is located in the Sidamo Province of southern Ethiopia, approximately 4,000 feet above sea level. The high elevation, rich volcanic soil, plentiful rainfall, and abundance of shade from the forest canopy combine to create ideal coffee growing conditions.
Coffees from Yirgacheffe are traditionally processed using the washed or wet method, which involves pulping the coffee cherry, fermenting the beans, washing them, and drying them on raised beds. This labor-intensive process helps produce Yirgacheffe's bright, fruity, and floral coffee profile. The region produces both bulk and micro-lot coffees on smallholder farms of just a few acres each.
Yirgacheffe coffees gained international acclaim following their debut at the 1974 World Barista Championships. Since then, the global specialty coffee industry has prized Yirgacheffe for its unique and complex flavors featuring notes of lemon, bergamot, orange blossom, jasmine, and other fruits and florals. While the terroir and processing create this distinct profile, the skill of the individual coffee farmer also greatly impacts the final product.
Over the next chapters, we will explore the unique geography, processing techniques, flavor profiles, roasting, brewing, and future of Yirgacheffe coffee in greater detail. Yirgacheffe remains an origin of endless exploration for coffee enthusiasts and specialty roasters around the world.
write a foreword by nathan johnston Director of cartel coffee roasters in australia
Here is a draft foreword written from the perspective of Nathan Johnston, Director of Cartel Coffee Roasters in Australia:
Foreword
It brings me great pleasure to introduce this definitive guide to the unique coffees of Ethiopia's Yirgacheffe region. As the Director of Cartel Coffee Roasters, I have had the privilege of visiting Yirgacheffe on several occasions, meeting the hard-working coffee farmers who produce these extraordinary coffees. Their skill, passion, and dedication are evident in every sip.
At Cartel, we are constantly amazed by the dynamic range of flavors that Yirgacheffe coffees showcase – from delicate florals to bright citrus notes and everything in between. Our goal as roasters is to respect the inherent qualities of these coffees by roasting gently and thoughtfully to highlight their terroir. We strive to transport our customers from our cafés in Australia to the lush slopes of southern Ethiopia with each steaming cup.
In this book, you will learn what makes Yirgacheffe coffees so special, from the legendary growing conditions to processing methods that influence the flavors in the cup. The author provides invaluable insight into how factors such as variety, soil, altitude, climate, and more come together to produce these balanced, complex coffees.
Whether you are a new enthusiast looking to understand more deeply the nuances of coffee's birthplace or a seasoned veteran searching for new perspective, this book will provide a multifaceted look at Yirgacheffe's enduring legacy. I am confident the knowledge shared within will enrich your own coffee journey and deepen your appreciation for these phenomenal coffees. Thank you for taking the time to appreciate the fruits of Ethiopia's coffee history. May your cup overbrim with inspiration.
Sincerely, Nathan Johnston Director Cartel Coffee Roasters
This coffee is paired well with