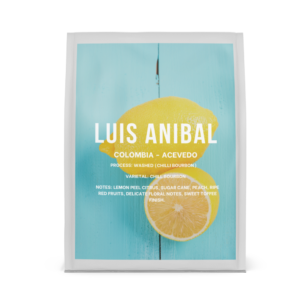 COLOMBIA – LUIS ANIBAL – CHILLI BOURBON – WASHED PROCESS
NOTES: LEMON PEEL CITRUS, SUGAR CANE, PEACH, RIPE RED FRUITS, DELICATE FLORAL NOTES, SWEET TOFFEE FINISH.
This coffee was grown by Luis Anibal Calderon at the farm Villa Betuila. This coffee is harvested following strict ripeness criteria, floated and hand sorted to eliminate defects. Cherries were then exposed to 30hours of underwater fermentation before being pulped. The parchment was then gently washed and dried in temperature controlled conditions until ideal moisture content was acheived.
This Microlot is 100% Chilli Bourbon, This rare varietal is a mutation that took place in Acevedo, Huilla.
Luis Anibal Calderón lives at Finca Villa Betulia with his wife and 3 sons. He first purchased the land in 2005. He began planting specialty coffee varieties in 2012, when he planted 5,000 Geisha trees on around 5% of his farm.
Ten years later, it was apparent to Luis Anibal that returns from cultivating Geisha were worth the extra effort. He decided to dedicate his entire farm to farm more delicate and rare specialty varieties, such as Geisha and Pink Bourbon, Chilli Bourbon.
Today, Villa Betulia is planted with a wide range of specialty varieties including Red, Pink and Yellow Geisha, Tabi, Java, Sidra, Striped Bourbon, Maragogype, Pacamara, Marageisha and several varieties of dwarf Geisha.
This coffee is paired well with