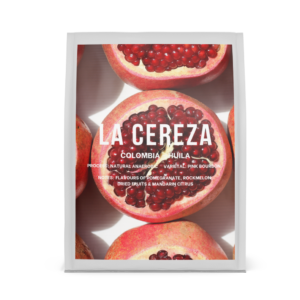 COLOMBIA – FINCA LA CEREZA – HUILA – NATURAL ANAEROBIC
NOTES: FLAVOURS OF POMEGRANATE, ROCKMELON, DRIED FRUITS & MANDARIN CITRUS
Felipe Ospina, biologist by trade, founded Colors of Nature in 2007 to promote sustainable specialty coffees at prices that combat poverty and support producer livelihoods. He also works as a processing instructor.
La Cereza Farm and Research Center is the research farm and processing center for Colors of Nature. Felipe oversees 5 Q processing professionals conducting hundreds of research projects about cultivation and processing. They focus on of the impact of fermentation and the use of native and inoculated microorganisms in fermentation.
The center also provides sensory kits and classes that enable farmers to assess their coffees and better understand the roasting and cupping process.
Legit coffee
I love this one. Full of flavour like any premium Colombian coffee.
This coffee is paired well with