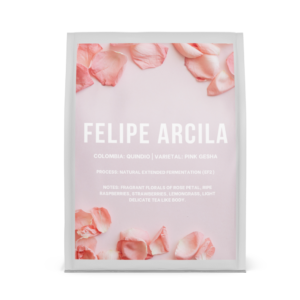 COLOMBIA – FELIPE ARCILA – PINK GESHA – NATURAL EXTENDED FERMENTATION
NOTES: FRAGRANT FLORALS OF ROSE PETAL, RIPE RASPBERRIES, STRAWBERRIES, LEMONGRASS, LIGHT DELICATE TEA LIKE BODY.
This coffee was grown by Felipe Arcila at the farm Jardines Del Eden. This coffee was exposed to a dry aerobic fermentation of 24 hours before being placed inside Grainpro bags for 50 hours at a temperature below 22ºC. Then the whole cherries were placed on raised beds until 11% moisture content was achieved. This variety of Gesha originated from a mutation that occurred on a farm in Huila, where over time, some of the fruits began to ripen to a
pinkish hue. Despite their different color, the cup profile was the same as the traditional red Gesha. We decided to selectively harvest the pink cherries and use their seeds to cultivate this Pink Gesha in Jardines del Eden. The resulting cup profile is just as exceptional as that of the red Gesha
Felipe Arcila is one of the co-founders of Cofinet along with his brother Carlos Arcila. They are the 4th generation of coffee growers. Their father, Jairo Arcila, is a third-generation coffee grower from Quindío. Jairo told his sons that the coffee industry was not profitable because of the many economic challenges he had faced in the past. Because of this advice, Felipe and Carlos both pushed forward with their careers in civil engineering and travelled to Australia to continue with their master's degrees.
A rare opportunity
Sometimes in life you need to just sit idle and appreciate the world surrounding. When you can do this with a beautiful balanced varietal, it's much easier.
I love this. It's clean, sweet, with soft tasting notes that make you relax.
You won't remember all the coffee you purchase in life, but hopefully this one stays in my memory a while.
This coffee is paired well with