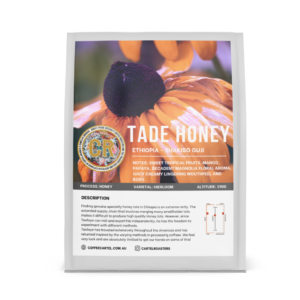 ETHIOPIA – TADE – HONEY PROCESS – HIERLOOM VARIETAL
NOTES: SWEET TROPICAL FRUITS, MANGO, PAPAYA, DECADENT MAGNOLIA FLORAL AROMA, JUICY CREAMY LINGERING MOUTHFEEL AND BODY. 
This coffee is grown in the Oromia region, one of Ethiopian's largest specialty coffee growing producers. The farm is located in Shakisso (Guji Zone), which is in the Southern part of Oromia. Tade GG is a private farm, owned by a gentleman named Tesfaye Bekele.
Finding genuine specialty honey lots in Ethiopia is an extreme rarity. The extended supply chain that involves merging many smallholder lots makes it difficult to produce high quality Honey lots. However, since Tesfaye can mill and export his independently, he has the freedom to experiment with different methods.
Tesfeye has traveled extensively throughout the Americas and has returned inspired by the varying methods in processing coffees. We feel very luck and are absolutely thrilled to get our hands on some of this!
At the farm's washing station cherry is typically pulped with an Agared machine (a pulper that has no mucilage remover).  Coffee and its mucilage dry on raised beds where workers turn it regularly to ensure even drying
The farm is 221 hectares in area and lies between 1,850 and 1,950 meters above sea level. The landscape is characterized by sharp and rugged hills, ridges, plateaus, valleys and flats, creating a stunningly dramatic setting for coffee production. The regions volcanic soil bursts with nutrients, creating a deep red and brown top layer of soil. Shakisso's high altitude and dry weather allow for cherries to develop very slowly giving a much more sweeter, complex cup for you all to enjoy.
HISTORY ON ETHIOPIA
Ethiopia earned 866 million USD exporting 221,000 tons of coffee during its last fiscal year .
According to Ethiopian Coffee & Tea Development and Marketing Authority, it has accomplished 92 per cent of its set goal to increase coffee exports. " It is a very great achievement compared to nation's previous years' coffee export performance ."
Comparing to the coffee export volumes of 2015/16, there had been 11.5 Per cent growth in the coffee exports during the just concluded fiscal year 2016-17. Plus ,the foreign earning from coffee has raised by 20 percent due to the global coffee price hikes .
In a recent exclusive interview with The Ethiopian Herald, Market Development and Promotion Directorate Director Dassa Daniso said: " Ethiopian Coffee has been imported to over 60 countries. But, this year, 57 countries have imported our coffee, particularly, 86 per cent ofthe total coffee exports destined for Germany, Saudi Arabia, Japan, USA, Belgium, Sudan, South Korea, among others."
Coffee all started in Ethiopia in the 9th Century when the goat-herder Kaldi, noticed his goats acting more spritely after consuming cherries from a certain plant. Kaldi tried the cherries and noticed some of the familiar effects that we all feel when we enjoy some of the good drink in the morning. While this is a popular account of the 'Discovery' of coffee, there are other accounts of traders chewing cherries on trade routes from Ethiopia in order to increase energy. Ethiopia's history is full of dramatic changes. Over the last four decades, the Ethiopian people have lived under three different forms of government, which include a semi-feudal imperial, a military rule with Marxist ideological orientation from 1974-1991, and a federal governance system from 1991 until the present. All of these periods have been accompanied by dissatisfaction, armed resistance and rebellions. Ethiopia has also confronted economic, social and environmental problems including a war with Eritrea from 1998-2000. This recent dispute with Eritrea as well other historical conflicts has provoked many damages, including lost lives, limited access to the land, emotional trauma, and extreme hunger.
Coffee still grows wild in Ethiopia's mountain forests. Ethiopian farmers cultivate coffee in four different systems, which include forest coffee, semi-forest coffee, garden coffee and plantation coffee. About 98% of the coffee in Ethiopia is produced by peasants on small farms and it is the country's most important export. Ethiopia is Africa's third largest coffee producer. There are about 700,000 coffee smallholders in Ethiopia, of which 54 percent are in semi forest areas. Coffee has been part of their indigenous cultural traditions for more than 10 generations.
Creamy and Smooth
Coffee Cartel usually get the descriptions down pat! I have my coffee black and without sugar – this coffee is sweet enough without sugar. You can taste the fruity notes, but the standout for me was the creaminess of the aftertaste. No bitterness and a very smooth coffee.
Nicely balanced
The coffee was really nice, tasted very much like firm peaches and plums, with a very nice floral flavour, very easy and enjoyable coffee to drink
Amazing flavour
Magic flavour profile and speedy delivery
Top Fruity Notch!
Similar to the Hafursa (which has been a favourite for two years now).
My word! I honestly could smell the fruity hints just as I opened the bag. I received the bag slightly ruptured from post/handling which has allowed the beans to breath for a few days before I started brewing it. Classic Ethiopian berry profile. Top fruity notch.
This coffee is paired well with