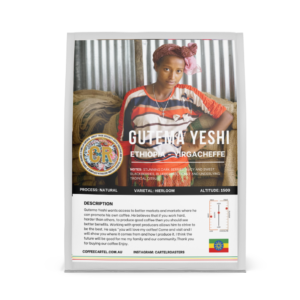 ETHIOPIA – GUTEMA YESHI G1 – YIRGACHEFFE – NATURAL PROCESS
TASTING NOTES: STUNNING DARK BERRIES, JUICY AND SWEET BLACKBERRIES, BLUEBERRIES, HONEY AND UNDERLYING TROPICAL CITRUS.
About Ethiopia Yirgacheffe Gutema Yeshi Grade 1 Natural
Gutema Yeshi wants access to better markets and markets where he can promote his own coffee. He believes that if you work hard, harder than others, to produce good coffee then you should see better benefits. Working with SUCAFINA allows him to strive to be the best. He says "you will love my coffee! Come and visit and I will show you where it comes from and how I produce it. I think the future (with SUCAFINA) will be good.
This Naturally processed was dried on African beds made from bamboo, takes 21days to dry with 7 hours, on average, drying hours per day typical natural method with frequent turning and sorting of defect cherries while drying. We also use static water tank or floating tank to sort cherries before placing them on beds.
Use an Ikawa? Try this profile as a starting point: https://tinyurl.com/mtc-ethiopia-natural
About Lalisaa Project
Lalisaa is a term used to describe something that is flourishing and growing. Historically, a majority of Ethiopia's coffee producers have not been able to enjoy a direct relationship with the buyer of their coffee. This lack of transparency and equitable trade structure left most farmers with no incentive or know how to develop their crop, despite having the world's most diverse and distinct coffee.
Due to recent changes in regulation, even the little guys can directly export their coffee to foreign markets and with Ethiopia's staggering levels of varietal diversity, we believe that new amazing coffees are just waiting to be discovered. We have partnered with several washing stations and farmers to create truly transparent and sustainable supply chains. Sucafina Ethiopia provide training on agronomy best practices and help organize farmers into groups to wean them off the need of intermediaries in the field so they can deliver directly to the washing or drying stations. In addition to the farmer training we provide training at the washing and drying stations to ensure the farmers' hard work is processed perfectly.
We have launched a pilot of the Lalisaa Project near Shakiso, Guji, where we have partnered with six coffee mills. This region receives ample rainfall and is marked by steep mountainous terrain. Perfect conditions to support the vast array of coffee found here. Only recently have Guji coffees been distinguished from neighbouring Sidamo and Yirgacheffe producing areas. Due to their immense quality and unique profiles however, they are quickly gaining international recognition.
Fruit Depth Delight
A versatile Yirgacheffe with seriously good length of red fruits and berry assortment. Light on its feet with intensity that flows, riding a backbone of structural intensity and genuine breezy length. Clean anfd sweet finish, delicious!
Good one
Pretty satisfied with this one. Seemed to take a good week or so for the notes to come out but was worth the wait.
This coffee is paired well with