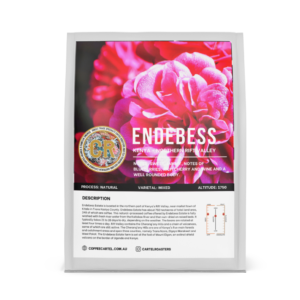 KENYA – ENDEBESS ESTATE – NATURAL PROCESS
NOTES: SWEET, JAMMY, NOTES OF BLUEBERRIES, RICH CHERRY AND WINE AND A WELL ROUNDED BODY.
Endebess Estate is located in the northern part of Kenya's Rift Valley, near market town of Kitale in Trans Nzoiya County. Endebess Estate has about 758 hectacres of total land area, 248 of which are coffee.
This natural-processed coffee offered by Endebess Estate is fully washed with fresh river water from the Koitobos River and then sun-dried on raised beds. It typically takes 21 to 28 days to dry, depending on the weather. The beans are rotated at least four times a day.
Rift Valley contains the Cherang'any Hills and a chain of volcanoes, some of which are still active. The Cherang'any Hills are one of Kenya's five main forests and catchment areas and span three counties, namely Trans Nzoia, Elgeyo Marakwet and West Pokot. The Endebess Estate farm is set at the foot of Mount Elgon, an extinct shield volcano on the border of Uganda and Kenya.
As far back as the 1940's, Endebess Estate milled and processed its own coffee as well as neighboring small producers. It used to be owned and managed by Mr. E.W. D'Ollier, and in 1976 it was sold to Gatatha Farmers Co Ltd. and then sold again in 2011 to its current owner and manager, Kaitet Tea Plantations.
Kaitet Plantations focuses on the welfare of its employees and takes social responsibility seriously. The farm financed over 15 housing renovations, sponsored two high school students, and hopes its social responsibility program will expand once the farm reaches greater profitability. In the medium term, Endebess Estate is working on its certification status as infrastructure is being improved.
True to description
I had to dose a little less grind for this one (using the Bellman Espresso maker) and that opened it up beautifully. All notes mentioned in the description are there, with a little more emphasis on blueberries and cherry. Jam is subtle. The wine finish is less prominent than in other coffees I've tried from Cartel. Overall a really pleasant, fruity but not-too-tart coffee. Well balanced.
Endebess
This coffee was an absolute delight and was roasted to perfection.
This coffee is paired well with