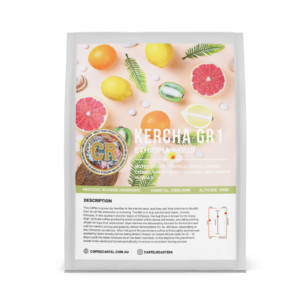 ETHIOPIA – KERCHA GR1 – GUJI – WASHED ANAEROBIC PROCESS
NOTES: BOOZY, TROPICAL FRUITS, SPARKLING LEMON CITRUS, SYRYPY BODY, CARAMEL AND JASMINE FLORALS
This coffee is grown by families in the Kercha area, and they sell their cherries to the Mill that do all the anaerobic processing. The Mill is in Guji, Kercha and Gelan, Oromia, Ethiopia. In the southern Oromia region of Ethiopia, the Guji Zone is known for its many high-altitude coffee producing areas located within dense old forests, providing cooling shade for slow fruit maturation.
Ripe cherries are delivered by farmers to the Kercha wet mill for careful sorting and pulping, before fermentation for 36-48 hours, depending on the climactic conditions. After this point the parchment coffee is thoroughly washed and graded by bean density before being dried in the sun on raised African beds for 12 – 15 days (until the ideal moisture level has been reached). In the daytime the parchment needs to be raked and turned periodically to ensure a consistent drying process. The coffee is also covered between 12pm and 3pm to protect it from the hot sun, and at nighttime to protect it from rainfall and moisture. Once the coffee has dried to the right level it is transported to Addis Ababa for dry-milling, grading, intensive sorting and handpicking, before being bagged in GrainPro for export.
Really nice fermented flavour. I keep coming back to this one.
Delicious
Delicious coffees. Quick delivery
This coffee is paired well with